"In my dream, the angel shrugged and said, 'If we fail this time, it will be a failure of imagination," and then she placed the world gently in the palm of my hand…"  Brian Andreas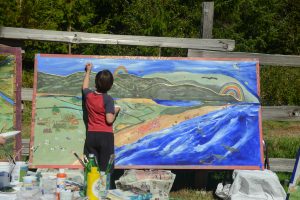 Three cooperative community visioning murals were created during 2005 by many community members in a series of sessions.  The background scenes (different views of the area) were painted by local young artists Henry Stanley, Rex Harter, and Alysha Pecore. Then at events like Alder Creek Farm work parties and the Manzanita Labor Day picnic, folks added details: their present house or future home, dreams of a labyrinth park in downtown Manzanita, bike trails, cooperative elder housing and much more.
They were revisited in October 2015 at the Harvest Fair at Alder Creek Farm.  
The Fulcrum Board worked on them again in Spring 1017 as part of a visioning focus retreat.
The original year long project was was organized by Lane deMoll and Glenna Gray, and sponsored by the Lower Nehalem Community Trust with funding from the Arts Build Communities program of the Oregon Arts Commission. The murals are currently located at Alder Creek Farm between Manzanita and Nehalem.
Building on this effort, Fulcrum continues to explore a variety of creative processes to help create and manifest visions for our common future.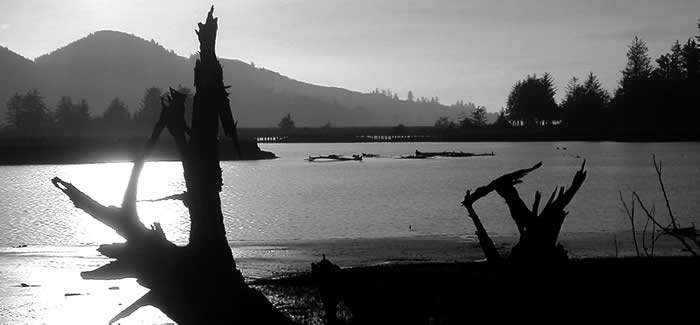 Estuary Trail – In 2004, Tom Bender initiated discussions with the State Park, local property owners and local stakeholders for developing a community pedestrian and biking trail joining Manzanita, Nehalem Bay State Park, Nehalem and Wheeler.
As of 2016, the project is being revisited in conjunction with proposed development of the "Salmonberry Corridor" using train tracks west from Banks to the coast and then south to Tillamook. Contact Fulcrum for more information.
Rural Car Share Coop – Wouldn't it be cool if we had a local car share program where basic cars were stationed in various neighborhoods and a central lot had pick-ups & vans for local hauling, as well as Prius-type cars for longer distances…. Who wants to make this happen??
Local Investment – There are so many ways we can be putting our savings back into our own communities for the benefit of all. Check out the page of examples and concepts on the NeahCasa website.